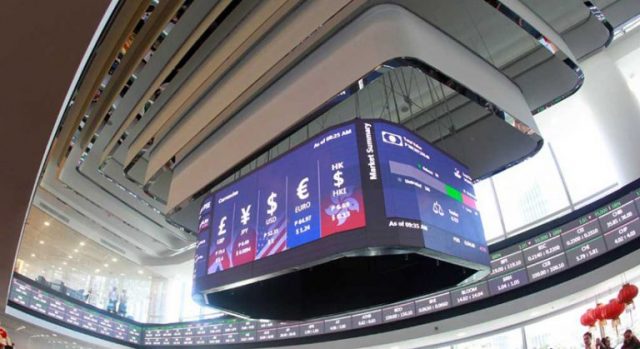 PHILIPPINE shares declined on Thursday due to profit taking amid the lack of upward price movement and after the US central bank signaled an end to its easy policy stance.
The Philippine Stock Exchange index (PSEi) lost 85.43 points or 1.22% to close at 6,887.92 on Thursday, while the broader all shares index declined by 36.84 points or 0.87% to finish at 4,184.96.
"With the market unable to break the 7,000 psychological resistance level, investors decided to go on profit taking," Diversified Securities, Inc. Equity Trader Aniceto K. Pangan said in a text message.
"We were already seeing signs that the rally was losing momentum and [Thursday]'s performance could potentially be the beginning of a much more substantial pullback," AAA Southeast Equities, Inc. Research Head Christopher John Mangun said in an e-mail. "Investors were willing to hold on to positions in the last few sessions as prices began to move sideways. The lack of upside price movement is causing impatience among some investors and as a result, they are beginning to unload."
Meanwhile, Regina Capital Development Corp. Head of Sales Luis A. Limlingan said investors also considered the US Federal Reserve's latest policy statement.
"Philippine shares sold on news and ahead of the FTSE rebalancing [on Friday] and after the FOMC (Federal Open Market Committee) meeting last night," Mr. Limlingan said in a Viber message. "Investors digested the US Fed's tone on the economic recovery. [Federal Reserve Chairman Jerome] Powell also revealed the timing of interest rate hikes and a slightly hawkish policy update."
Signaling that broad changes in policy may happen sooner than expected, Fed officials on Wednesday moved their first projected rate increases from 2024 into 2023, with 13 of 18 policymakers foreseeing a "liftoff" in borrowing costs that year and 11 seeing two quarter-percentage-point rate increases, Reuters reported.
Back home, all sectoral indices closed in the red on Thursday. Property went down by 88.23 points or 2.55% to 3,360.71; industrials lost 161.67 points or 1.71% to 9,284.22; financials dropped 13.14 points or 0.86% to 1,507.41; holding firms declined by 38.16 points or 0.54% to end at 6,949.73; mining and oil shed 44.61 points or 0.47% to 9,359.16; and services gave up 3.26 points or 0.21% to close at 1,543.48.
Value turnover went up to P14.18 billion with 3.29 billion shares switching hands on Thursday, from the P10.71 billion with 5.22 billion issues traded on the previous day.
Decliners outnumbered advancers, 129 against 76, while 41 names closed unchanged.
Net foreign selling surged to P5.20 billion on Thursday from the P625.17 million seen on Wednesday.
"The PSEi failing to break above the 7,000 key level is starting to encourage more selling, which is long overdue after three weeks of gains," AAA Southeast Equities' Mr. Mangun said. "This move to free up cash could also be a strategy… to take the market higher in the next session with more ammo." — K.C.G. Valmonte with Reuters