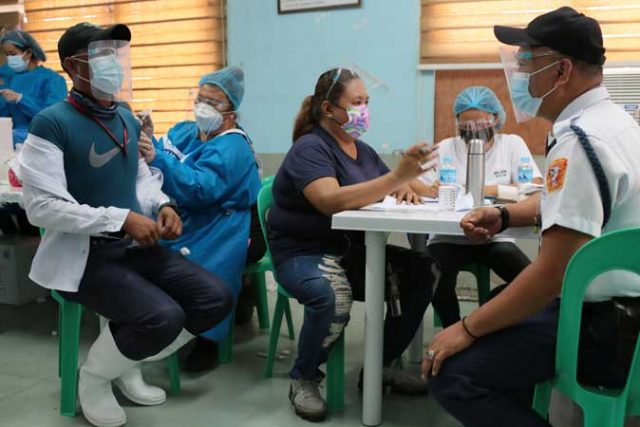 By Kyle Aristophere T. Atienza, Reporter
THE PHILIPPINES on Thursday took delivery of about 1.5 million more doses of CoronaVac from China, according to the presidential palace, in a further boost to the government's vaccination drive.
Of the total, about 500,000 doses were paid for by the private sector under a deal with the National Government, presidential spokesman Herminio L. Roque, Jr. told a televised news briefing.
The shots were bought by the Federation of Filipino Chinese Chambers of Commerce & Industry, Inc., Jusan Vincent Arcena, assistant secretary at the Presidential Communications Operations Office, told reporters in a Viber group message.
Mr. Roque said the latest shipment is the third batch of CoronaVac shots received by the government this month. About 24 million more CoronaVac doses are set to arrive on June 24.
He said the country had received about 14.2 million doses of coronavirus vaccines as of June 17.
Mr. Roque said about 7.5 million doses of vaccines have been given out as of June 16. Of the total, more than 5.5 million were initial doses while the rest were second doses, he said.
About a million health workers have received their second and final vaccine doses, he said.
Almost 514,000 seniors and about 470,000 seriously ill people have also completed their vaccination, he added. Mr. Roque said 7,165 economic frontliners have also received their second doses
The government will take delivery of about 250,000 doses of the vaccine made by Moderna, Inc. on June 25. It will also receive more than two million doses of the vaccine made by AstraZeneca Plc and about 150,000 doses Sputnik V from Russia this month.
DAILY TALLY
The Department of Health (DoH) reported 6,637 coronavirus infections on Thursday, bringing the total to 1.34 million.
The death toll rose by 155 to 23,276, while recoveries increased by 4,585 to 1.26 million, it said in a bulletin.
There were 58,407 active cases, 1.3% of which were critical, 91.8% were mild, 3.8% did not show symptoms, 1.8% were severe and 1.3% were moderate.
The agency said 12 duplicates had been removed from the tally, 10 of which were tagged as recoveries.
A total of 235 recoveries were reclassified as active cases, while 107 cases previously tagged as recoveries were reclassified as deaths. Five laboratories failed to submit data on June 14, it added.
About 13.4 million Filipinos have been tested for the coronavirus as of June 15, according to DoH's tracker website.
The coronavirus has sickened about 177.8 million and killed 3.8 million people worldwide, according to the Worldometers website, citing various sources including data from the World Health Organization.
About 162.3 million people have recovered, it said.
Meanwhile, the presidential palace confirmed that President Rodrigo R. Duterte thinks face shields should only be worn inside health facilities.
Earlier in the day, Senate President Vicente C. Sotto tweeted that the President "agreed that face shields should only be used in hospitals." Senator Joel J. Villanueva also made a similar claim.
The two senators met with the President on Wednesday during the ceremonial reenactment of the signing of several bills in Malacanang.
"I can only confirm what Senate President Tito Sotto and what Senator Joel Villanueva said earlier, that the President did say that the wearing of face shields should only be in hospitals," Mr. Roque told a televised news briefing.
"What the President says becomes a presidential policy," Mr. Roque said when asked whether an inter-agency task force (IATF) would reconsider the mandatory use of face shields.
"The IATF is recommendatory to the President and when the President has decided, then that's the policy," Mr. Roque said. "This is without prejudice to IATF appealing possibly."
"I think the possible move of IATF now is to appeal to what the President said and what was repeated to the public by the Senate President and Senator Villanueva," he added.
Mr. Roque said he would raise at a meeting of the pandemic task force this week the proposal of Mr. Sotto and other policymakers to do away with face shields when outside.
Health Undersecretary Leopoldo J. Vega on Wednesday said people could remove their face shields when outdoors.
Manila Mayor Francisco M. Domagoso earlier urged the National Government to scientifically explain why face shields are required outdoors.
The Interior and Local Government department last month said more than 900 people were arrested in the second week of May for failing to wear a face mask. — with Vann Marlo M. Villegas