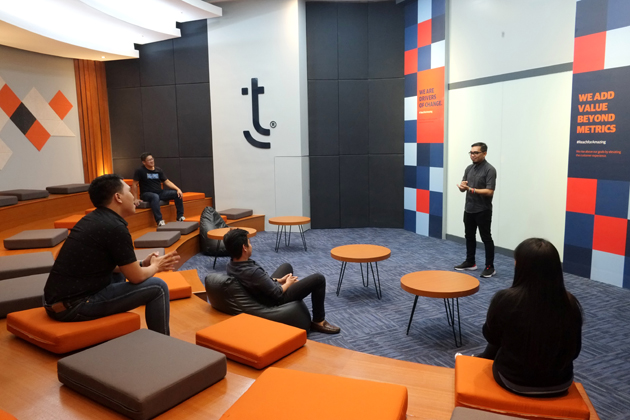 By Bjorn Biel M. Beltran, Special Features Assistant Editor

The world was caught unaware by the coming of the COVID-19 pandemic, with many businesses, organizations, and even governments scrambling to make sense of the changes it was making to society. Many sought guidance, but with everyone experiencing the most impactful global event in recent history, very few could give it.
TTEC, the leading global customer experience as a service (CXaaS) partner for many of the world's most iconic and disruptive brands, saw this as an opportunity.
"This pandemic crisis has provided us an opportunity for our client-companies to leverage our expertise as a true trusted advisor and partner," Arthur Nowak, senior vice-president, Asia-Pacific, said in an interview.
"At TTEC, we design, implement, and deliver transformative customer experiences and we continued to do so during this global pandemic evolving our work-at-home model to include business continuity for our bricks and mortar operations. Our flexibility and resiliency were critical in guiding our clients successfully through the impacts experienced during the pandemic."
Because of the company's Business Contingency Team, Mr. Nowak said TTEC stayed ahead of the curve and responded with agility to ensure that TTEC's resilience principles and priorities were upheld, especially in times of natural disasters and the pandemic. Among the priorities set by the company included the health and safety of their employees, clients, and community, all the while keeping business continuity and minimizing disruption at top of mind.
In the Philippines, within 48 hours of the start of the nationwide lockdowns, TTEC implemented different work arrangements for its employees, with a plan intended to maintain business continuity while allowing employees to focus on their personal welfares. Work-from-home models were adopted, while provision of transportation services, hotel accommodations, and additional support were issued to those which required them.
Based on TTEC's formal client satisfaction survey, TTEC is one of the few Business Process Outsourcing companies that have provided immediate solutions in response to the varying quarantine status around the world. These solutions are a combination of TTEC-initiated solutions and compliance to government-mandated solutions. Consequently, TTEC's COVID- 19 Response, as led by TTEC's Business Contingency Team, has been recognized as a Circle of Excellence Awardee at the recent Asia CEO Awards.
Founded in 1982, TTEC has over 56,000 employees and operate on six continents across the globe. TTEC began operations in the Philippines in 2002 and have since grown to include 20+ facilities in Metro Manila, near-Metro Manila, and provincial areas.
The company's TTEC Digital Business provides insight-driven, outcome-based, and AI-enabled omnichannel cloud platforms and CX consulting solutions. TTEC Engage, meanwhile, delivers operational excellence through customer care, acquisition, retention, fraud prevention and detection, and content moderation services.

Ready for any future crisis

TTEC has managed to adapt quickly to the pandemic because it has invested time and effort in creating systems that can mitigate any disruption to its services. In 2019, the company activated an employee-focused, technology-enabled movement called CultureCX, that at its core, is all about digitizing employee experience to attract, support, and develop motivated individuals who can best represent brands from the inside-out. This initiative continues and remains a key element in future-proofing the company.
"We invest in the same customer-facing technology to empower both our @home and brick-and-mortar workforce. We understand that the employee experience, powered by a great digital experience, leads to amazing customer experiences. EX to the power of DX = CX is a formula we live by and enable for our clients," Mr. Nowak said.
This year, TTEC further accelerated innovation as it launched the Humanify@Home Platform – a true CX as a Service Platform that currently powers over 80% of TTEC's remote contact center agents across the globe in 100% secure at-home environments. Large-scale software deployment can happen in hours, and in-person associate experiences are realistically replicated with virtual collaboration and productivity-enhancing tools.
The company also continues to revolutionize its technology to enable and support its remote workforce. In September, TTEC's RealPlay — its AI-powered training technology–has been named the "Disruptive Technology of Year" by Customer Contact Week as part of its 2020 CCW Excellence Awards.
TTEC's revolutionary proprietary RealPlay leverages the latest Artificial Intelligence (AI), voice recognition, machine learning technology, responsive game development, and data visualization to simulate the same real-world customer scenarios (good and bad) associates experience before they take live calls from real customers.
"Our ability to rapidly enable large commercial enterprise and government clients with frictionless and fully digitized employee and customer experiences has never been more critical and relevant," Mr. Nowak said.
"Our end-to-end approach to designing, building, and operating CXaaS is resonating with organizations that are handling increasingly complex, high-end and mission-critical customer engagement. COVID-19 kicked open the digital front door, and companies realize they cannot go back to the way things were before. TTEC has emerged as a partner of choice in this substantial transformation and ongoing performance for global enterprise customers."